Studying Jarry's life gives certain insights into the man who created pataphysics and why he might have done so. Several works have helped prepare the below outline of Jarry's life. Alastair Brotchie's A Pataphysical Life (2011) and Roger Shattuck's The Banquet Years (1959) were the two main sources used but several others have also written about Alfred Jarry (e.g. Linda Klieger Stillman, Keith Beaumont, and Jill Fell).
Life
Alfred Jarry was born in Laval, Mayenne, France in 1873 and died in Paris in 1907, at the age of 34. He was known as a poet, dramatist, novelist and journalist but also as a graphic artist. His hobbies included entomology, fishing, cycling, fencing, shooting and drinking.
He went to school in Rennes, where his physics teachers Félix-Frédéric Hébert left such a big impression on Jarry that he would later be his inspiration for Père Ubu. He passed his baccalauréat with 17 and moved to Paris to attend the lycée Henri IV in preparation to apply for admission to the École Normale Supérieure but eventually gave upon the entrance exam after several unsuccessful attempts. He met another teacher at the lycée, this time a philosophy teacher called Henri Bergson, who inspired him greatly. He published his first collection of poems in 1893, aged 20, the year his mother died. One of his classmates there described him as follows.
[…] I found Jarry's mental processes disturbing. When he let himself go he seemed in thrall to a torrent of words outside his control. It was no longer a person speaking, but a machine controlled by a demon. His staccato voice, metallic and nasal, his abrupt puppet-like gestures, his fixed expression and uncontrolled flood of language, his grotesque and brilliant turns of phrases, ended up provoking a feeling of disquiet. He was informed, intelligent, and discriminating; he was good person, secretly kind, perhaps even shy beneath it all […] but his originality resembled nothing short of a mental anomaly.

(Gandilhon Gens-d'Armes 1922, as cited in Brotchie 2011)
He was at the centre of the avant-garde movement in Paris around that time, at the centre of the Tuesday meetings of the Mercure de France (a literary magazine run by Alfred Valette and his wife Rachilde, who soon became a sort of substitute family to Jarry who was roughly 15 years younger than them). Being rather misogynist at times and homosexually inclined, Rachilde was one of his very few female friends.
The following year, 1895, he briefly joined the army in the 101st infantry, after having dodged it by being an enrolled student at the lycée. He followed rules there pedantically but hated the loss of his individualism. According to Brotchie, he "chose subservience, but subservience taken to the point of parody: the pataphysical solution to the problem of obedience" (2011). Probably the only thing he enjoyed there was the fencing and shooting training. He looked funny in the uniform that was too big for him being so small (5'3") so he was eventually excused from parades and after a few months he was allowed to leave to Paris frequently. He was discharged in December 1895 on medical grounds: gallstones. It is not unlikely that he faked the illness by drinking picric acid.
His father had died just two months earlier and had left him a small inheritance, which he spent mostly on publishing his very own magazine dedicated to symbolist wood carvings, the Perhinderion. He had previously co-edited the magazine L'Ymagier with Remy de Gourmont between 1893 and 1894. He joined Aurélien Lugné-Poë as his secretary (his only ever real job) at the Théâtre de l'Œuvre after his discharge at the army, where he would pour his utmost attention to putting his Ubu play on the stage. He also played a small role in the production of Peer Gynt at the Œuvre earlier in 1896. The printed version of Ubu Roi appeared in Le Livre d'Art in the middle of the year with Jarry's carved woodcut image of Ubu shown in Image 4.1. The première took place on 10th December that year and caused an outrage in the audience after the first word: 'merdre' (sometimes translated as 'pshit'). Jarry had previously arranged for certain friends to counter any reaction of the general audience and to prevent under all circumstances for the play to reach its conclusion. The performance went according to plan. The uproar after the first word was uttered was immense, the performance had to be interrupted at times to calm the audience and it finished in shouts of praise, protest and insults. There were no further performances but the event was considered historic even at the time and is now widely seen as the first 'modern' play (Brotchie 2011). And as Dave Walsh puts it: "Movements such as Dadaism, Surrealism, Futurism, Expressionism Cubism, Theatre of the Absurd—all owe debts to [Jarry's] works" (2001).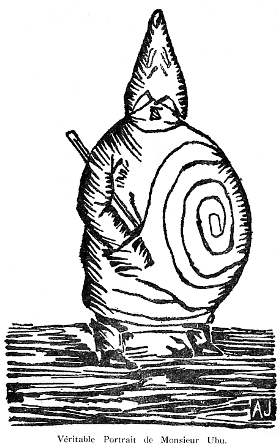 Although Ubu's mannerism of speech was originally imitating Jarry's, as suggested by Lugné-Poë (Brotchie 2011), Jarry continued to adopt Ubu's mannerisms.
Those who knew him said that his nauseating appearance hid a youth who was stubborn yet shy, proud and little full of himself, but good-natured and ingenuous behind his cynicism, one who was fiercely independent and rigorously honest.

(Henri de Regnier, as cited in Brotchie 2011)
Alfred Jarry had a very particular way of speaking to that was disconcerting to those who heard it for the first time. He said "we", when referring to himself, and substituted verbs for nouns, in imitation of ancient Greek. Example: "celui qui soufflé" (that which blows) for the wind, and "celui qui se traîne" (that which crawls along) for the train, even if it was an express! This made conversation somewhat complicated, not least because of the rapidity of his delivery.

(Rachilde, as cited in Brotchie 2011)
Alfred Jarry was a man of letters to an unprecedented extent. His smallest actions, his childish pranks, everything he did was literature. His whole life was shaped by literature, and only by literature.

(Appolinaire, as cited in Brotchie 2011)
Jarry spent the next few years writing. He had spent all his inheritance on the publication of his magazine and the production of Ubu Roi. It is during this time that he moved to his infamous tiny flat on the second-and-a-half floor. Jarry could just about stand upright but any guests had to crouch. He had no electricity or gas and no means of cooking. In December 1897 he formed a marionette theatre with his friend Claude Terasse: the Théâtre de Pantins and they performed Ubu Roi in January 1898 without riots in the audience.
Jarry then gradually withdrew from the literary circles in Paris and spent more time in a little shack on the banks of the Seine near the village of Le Coudray. He started writing a regular review column for the Revue Blanche in 1900, the income of which he certainly needed much. There was a brief revival of the Ubu marionette play in the Cabaret des Quat'z'Arts in 1901.
Around 1904 he began drinking ether, the absinthe not strong enough anymore. In the winter of 1905 he was very ill, the cold and poverty not helping. In 1906, his friends became more and more concerned about his deteriorating health and eventually Valette and Saltas sent him to his sister Charlotte. He then spent some time in Paris and some in Laval at his sister's place over the next year. Alfred Jarry then died in November of 1907 of meningeal tuberculosis. His last request was for a toothpick.
He believes that the decomposing brain goes on working after death and it is its dreams that are Paradise.

(Jarry 1906, as cited in Brotchie 2011, the 'he' refers to Jarry himself, he is talking in third person.)
Literature
Jarry has written a good amount of texts in his short life and he didn't confine himself to a single category either. He wrote poems, novels, short stories, essays, art reviews, theatre reviews and plays and also produced translations into French. Many of his texts were completely fictional, some had autobiographical and some scientific aspects and most of them had a sarcastic sense of humour. See appendix A.6 for a full list.
Jarry was an acknowledged classical scholar, had already worked as a reviewer of art and drama, had edited two art magazines, was up to date with modern scientific theory, especially physics, read widely in mathematics and psychology, and had an extensive basic knowledge of philosophy.

(Brotchie 2011)
James Cutshall says that "instead of Jarry the man and the meaning of his literary endeavours becoming clearer with the passage of time, both have become increasingly indistinct" (1988). He intended to show the seriousness implied behind the humour used in many of Jarry's novels, in order to give the author the merit he deserved. Cutshall wrote about Jarry's novels rather than simply seeing him as the playwright of the Ubu plays. He surveyed existing criticism about Jarry's texts and provided his own view on them. He immortalised Jarry by saying "whether or not this is the sort of 'éthernité' sought by the heroes of Jarry's novels, it is certainly that which their author somewhat belatedly has found" (Cutshall 1988).
Cutshall was not the only one who has written about certain less-known texts by Jarry. Marieke Dubbelboer's thesis Ubusing Culture is also interesting in this regard since it concentrates completely on the Almanachs du Père Ubu (published in 1898 and 1901) (2009). She was looking for keys to Jarry's poetics in those texts, which she says "seemed to defy labelling or literary norms" (2009). She claims the Almanachs to be quite radical and exemplary of his innovative poetics moving away from symbolism and towards the avant-garde. In general she says his work "can be characterized as playful, elusive, paradoxical and provocative" (2009) and his two Almanachs are the essence of his non-conformist attitude. They were written at a time of change for Jarry, when he withdrew from his usual circles in Paris and he published in new magazines.